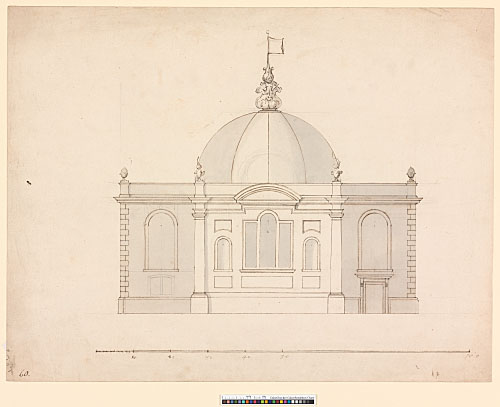 113 - AS I.60. Elevation, drawn by Edward Pearce to a scale of 7½ ft to an inch (drawn scale). The design is just under 80 ft across and presumably shows the E elevation. Brown ink over pencil and scorer, shaded with grey wash. 335 x 435 mm. Watermark: Strasbourg lily WR. Pencil additions:

(i) A circle, approximately 15 ft across, is loosely sketched over the segmental pediment.
(ii) A hanging garland and ear moulding have been added to the L arched window.
(iii) A segmental window is ruled in pencil below the L arched window.
Note to 113: This drawing was made by Edward Pearce (see note to 112). It probably shows a preliminary scheme for St Lawrence Jewry, where Pearce was engaged as mason from c. 1671 (see note to 119). The design should be compared with a (lost) survey plan of the old church (Summerson 1970, fig. 16a, where incorrectly titled; Jeffery 1996, 108), also in Pearce's hand, which gives the E façade as 79½ ft wide and includes pencil sketching for a new church surmounted by a dome.
[WS 9, pl. 33; Jeffery 1996, 121–22, where identified as a design for St Mary Abchurch]